The Successful Amendment:
This Amendment Covered the Situation that seems to continue unabated in Darfur.
Sponsored by Congressman Michael McCaul a Republican representing the 10th District of Texas, This Amendment calls for the Following:
Within 60 Days of Going into effect the Following Steps must occur:
The President Must Submit to Congress an Interagency Strategy to Deal with the Humanitarian Crisis. Such Options that were Mentioned in the Press Release from the Congressman's Office Include: Restoring Access to Darfur to the Aid Agencies that were ordered to leave and Evaluate if Options such as Sanctions, A No-Fly Zone over Darfur, Diplomacy are feasable.
The Save Darfur Coalition wants the Process to Move with the Fastest Possible Speed
This Amendment Passed Unaminously.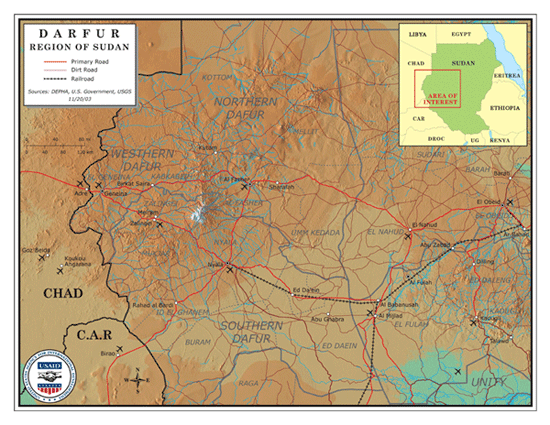 There were two Proposed Amendments to the Foreign Operations Budget for the State Department. The Darfur Amendment (map above) passed. But who loses with the Failure?
The Amendment that Failed:
This is one of the Most Interesting Situations that I have ever come across.
First of All this Amendment was Sponsored by Congressman Ed Royce (R-CA). He was the Chair of the African Subcommittee on the Foreign Relations Committee the Last Time the Republicans were in control of Congress. He has a lot of respect when it comes to African Issues.
He sponsored this Amendment to consider Eritrea a Threat to the National Security of the United States and to be placed on the Terrorism Watch List. There have been widespread Allegations by the US and the UN that Eritrea has been supporting the Insurgents in Somalia.
Tensions remain rife along the Border between Ethiopia and Eritrea and the Country has Occupied a small part of Djibouti as well. The Headquarters for the Combined Joint Task Force Horn of Africa (CJTF-HOA) is in the Country.
I became aware of the Defeat of this Amendment as it was Publicized on several Ethiopian Opposition Webpages. They were calling this a Defeat for Prime Minister Zenawi. They have been Reporting that the Ethiopian Government Lobbied Hard for this Amendment.
Congressman Royce who is the Ranking Member on the Terrorism, Nonproliferation and Trade Committee states on His Blog Foreign Intrigue that Opponents to his Amendment said that the Eritrean President has sent a Letter to President Obama stating His Desire to Engage on these Issues.
The President of Eritrea has a Habit of Blaming all of his Country's Problems on the United States.
Clearly Some Information did not make it to the surface.
Clearly when it comes to Eritrea someone has Dropped the Ball!!