First of all one must ask how much success has the US had during this month?

There are a series of Crises active in Several Parts of the World. Others threaten to explode on the World Stage as well.

But First of all lets take what I think has been the largest success the US has had this month.

THE CLASSIFYING OF RAPE AS A WEAPON OF WAR!!!

Sadly this has been used as a tactic in several conflicts. Most Notably the Genocide in Rwanda,the fighting in the former Yugoslavia and most recently in the Democratic Republic of the Congo.

So by a Rare 15-0 vote the UN Security Council Decided that the Use of Rape was a tactic of war and increases the Punishment the Guilty Party Can Face.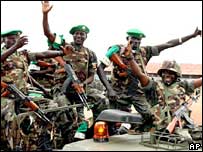 Militias will face New Problems if they Use Rape as a Tactic during Conflict.
The Other major Activity that the US Has Undertaken is raising Awareness of the Situation in Zimbabwe. The Country will have a Second Round in its Controversial Presidential Elections that had "no clear winner" back in March of this year.

During the last couple of weeks there has been a spike in Politically Motivated Violence within the troubled country. Dozens of Supporters of the Movement for Democratic Change have been killed, others have been assaulted as well. Diplomats from several countries have been harassed by Security Forces, Aid Groups have been bullied into ceasing operations as well.

The UN Security Council held a briefing which resulted in a Resolution calling upon the Republic of Zimbabwe to cease the attacks against the Opposition and calling for a runoff in the second round of the Presidential Elections.

Zimbabwe has thumbed its nose to the World once again.
These situations will still be monitored by the Confused Eagle.