The Current Insurgency by the Lord's Resistance Army has been ongoing since 1986. Earlier this year Joseph Kony the Leader of the LRA was to sign a Peace accord with the Ugandan Government that was negotiated by the Government of South Sudan. (GOSS)
However when it came to sign the Document Kony never showed up.
Kony and several other senior leaders have been Indicted by the International Criminal Court for various offenses. It is believed that the LRA wants the Indictments quashed before they sign the Document.
Within the last several weeks there have been reports of clashes between the LRA and GOSS. There are also reports of raids by the LRA in the Central African Republic. Also there there are Movements against the LRA in the Democratic Republic of the Congo.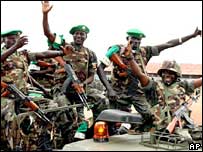 Can the United States help bring an end to the longest currently running Insurgency in Africa?
Resolve Uganda listed a series of recommendations for the United States to take to help bring an end to the conflict in Northern Uganda.
The Recommendations include:
1.) Passing Legislation that will ensure a US Presence in the Rebuilding of the Region. It will take an estimated $175 Million over the next five years to complete this daunting task
2.) Ensure that this and the Following Adminstration lead the multilateral efforts to rebuild the Region. And having the US take steps to address the threats by the LRA.
3.) Hold the Government of President Museveni Accountable to coordinate the Rebuliding Process and to bring the region into a comprable state with the rest of the country.
4.) Convene a Donors Conference on Uganda to ensure Financial committments for a maintained rebuilding process is crucial.
5.) Have a Diplomat work full time with the UN and other concerned bodies to deal with the LRA and other Issues.
6.) Begin a Process for the Apprehension of Joseph Kony.
For More Information regarding the situation in Northern Uganda the Confused Eagle recommends the following sites: