Democratic Government returned to Nigeria in 1999 after a series of Brutal Military Leaders. The elections that were held in the Country Earlier this year were considered to be deeply flawed by the State Department.

Corruption is rife in the Country with several Governors being sacked since the Yar'Adua Administration took over. The wealth that has been generated from the Oil Rich Niger Delta has not been used to improve the Infrastructure in the region. In recent months MEND (Movement for the Emancipation of the De;ta) has changed its tactics in raising awareness of its concerns. With Several US and European Oil Companies becoming targets its prudent that the US take an Interest in the Internal Security of Nigeria.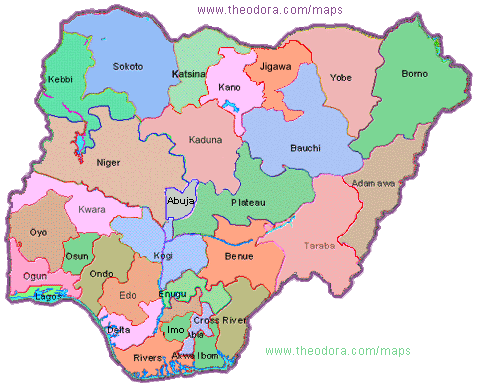 These are the States of Nigeria. The North has Sharia Law. The South is Mostly Christian. And the US does have some concerns.
There are two concerns that have not been mentioned often in the Media of the World.



The use of Sharia Law in the North and the often violent clashes between Muslims and Christians. There have been instances when both Mosques and Churches have been destroyed as Security Forces stood by and watched. This is a situation that needs to be discussed within the Beltway.



The Recent attack by Militants in the Bakassa Peninsula Region of the Cameroon is another area of potential concern. If the contention of the English Speaking People of the Cameroon are found to have merit then who knows how the situation will be resolved. There have been calls within the Parliament to rescind the recent transfer of that oil rich region that occurred some time ago.




Do you have any comments?.