Since the Highly Controversial Elections in 2000 Zimbabwe has been in decline. Economic Mismanagement, A Poorly Implemented Land Reform Program, Drought,Divisions within the Christian Community and Crackdowns on both the Political Opposition and the Independent Media have been the rule not the exception.

In the Past the EU and the United States have placed sanctions against High Level Members of the ruling ZANU-PF (Zimbabwe African National Union-Patriotic Front) keeping them from traveling to these regions unless on Official Business. Their Family members were targeted with these sanctions as well. There is also an embargo against the sale of Military and Police Equipment as well.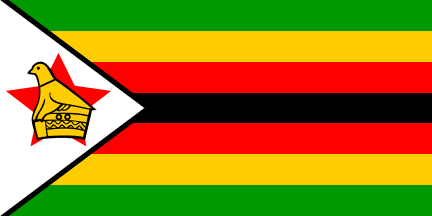 This is the Flag of Zimbabwe one of the most repressive Countries in the World let alone Africa.
For Years the Official Position of the South African Government has been to use "Quiet Diplomacy" while dealing with events in its Northern Neighbor. The South Africans feel that the US/EU Sanctions are counterproductive and smacks of Racism.

The ANC and Robert Mugabe have a close relationship as Harare did shield some members of the ANC during the Apartheid era of South African History. So there is a sense of loyalty to a fellow comrade-in-arms no matter what his current deeds are doing to Zimbabwe.

But could Zimbabwe end up be a major factor in the upcoming South African Presidential Elections? We will find out in 2009!
For more Information regarding Zimbabwe read The Zimbabwean at www.thezimbabwean.co.uk