For Some time now when the list of the Major Exports for Guniea-Bissau was listed Cocaine was on the list. This was interesting considering that the Coca Plant is not native there.

So when Reporters Without Borders released a Report after a fact finding Mission to the country it raised my interest as as someone concerned with US Affairs. The report found that Colombian Drug Dealers with local accomplices (even within the Government) were intimidating the local press.

Earlier this year the Army of Guniea-Bissau launched an Offensive that drove the Casamance Rebels out of their main Base of Operations. This Operation caused some leaders to be taken into custody by Gambia where they face Treason Charges and caused concern with Senegal.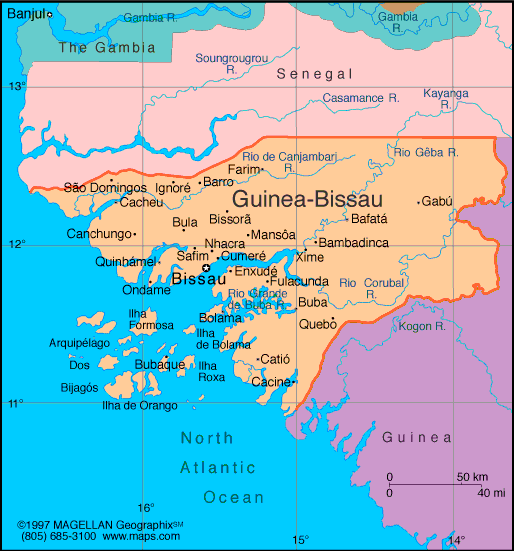 Guniea-Bissau: The World's Next Narco-State?
OTHER CONCERNS

Besides the Narcotics Trade and the Crackdown on the Press there is another issue that we all should be concerned with.

Child Trafficking in the region is another major problem. Borders in the region are porous at best. It is feared by the Policy Makers in Washington that Terrorists can move across the borders at will also.

The trading of children permeates the region. One report indicates that there are 100,000 Children begging in Senegal right now. It is believed that some are used for prostitution as they are taught humility.

Recently the US has placed a warship in the Gulf of Guniea to assist regional actors in preventing Piracy. Also the protection of Energy Assets has also been on the agenda as well.

Promotion of Democracy, Protection of Children we have heard both parties use them for elections in the past how about doing them for a change?
I'm sure that this story will be updated soon