Within the United States there has been Considerable Interest in having Peace Restored to these Neighboring States. The Fighting in Uganda was the longest Conflict currently ongoing in Africa. The Fighting in the Democratic Republic of the Congo was the Bloodiest.



The United States in its Capacity sent Observers to Both Peace Conferences. And it has Offered Generous Packages to offset the Costs of the War.



The Ink is Fresh on the Ugandan Deal. The Deal for the Congo is having Problems. Whatever will the UN and the US do?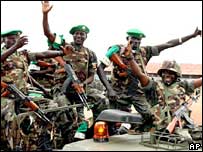 Ugandan Troops are seen here. Will the Region Finally Stabilize so that they do not have to be deployed?

Photo Source: AP via BBC
The United States has had a Presence in both of these Negotiations. It has had observers Observing at both of the talks. It has also taken some unique steps behind the scenes as well.

Some of the US Actions Include:

An Investigation by the CIA about whether or not a Militia that is rumored to be supported by a Former Ugandan Candidate for President was not only in the Congo but Actually Existed.

Organizing Meetings of the Heads of the Intelligence Services of Rwanda,Uganda,Burundi and the Democratic Republic of the Congo on a Regular Basis to further defuse tensions.

Offering to Retrain the Army of the Democratic Republic of the Congo.

As well as providing Financial Aid for Internally Displaced Persons.
Within the Next Few Weeks Activists concerned with the Situations in Both Countries will be in Washington Lobbying their respective Members of Congress.